Self Catering Accommodation in North Norfolk
Great Places to Visit
There is a fuller more comprehensive list in each of the properties, but here are a few suggestions for a variety of ages and interests, I hope!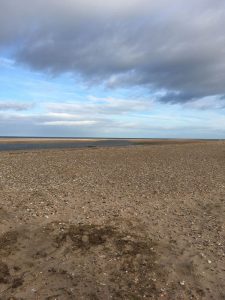 The Beach…has to be first on the list. Being outside enjoying the big skies and open space is to me what Norfolk is all about. There many beaches within easy reach of Briningham that are varied in their appeal. Holkham is sandy and enormous and a favourite for dog walkers. Cromer is sandy and has the added attraction of being on the doorstep of the town with its famous pier. Brancaster was always our favourite when the children were small as they don't have to walk too far!
Birdwatching…if you are interested in birds, Briningham is a perfect spot to be based… in fact this year the geese have made one of the fields on the farm one of their bases for feeding. It was quite incredible standing underneath thousands of geese as they took flight for the coast.
Neil Glenn, author of 'Best Birdwatching Sites in Norfolk' writes: "Norfolk is rightly regarded by birdwatchers as the best county to visit in Britain to see birds. The real beauty of Norfolk is that there is a mouth-watering variety of bird species to admire, no matter what time of year you choose to come. From the spectacle of thousands of Geese in winter, the wonder of migrating species in spring and autumn to the array of breeding Waders and Warblers, you are guaranteed to see something special during your time in this very special county."
Popular sites for bird watching – Brancaster Staithe, Blakeney Point and Holkham.
Stately Homes and Gardens… are in abundance in Norfolk. Sandringham, Blickling, Holkham, Houghton, Oxburgh, Felbrigg are all within easy reach of Briningham.
Family Attractions… there are some great, fun places to visit which are enjoyable for all ages. BeWILDerwood is a huge, award winning forest of family fun and outdoor adventure. Treehouses, zip wires, jungle bridges, Crocklebogs, Twiggles and Boggles, story telling, boat trips, marsh walks and really yummy food.
Pensthorpe Natural Park was awarded bronze in the Large Visitor Attraction of the Year category at the Visit England Awards for Excellence 2022. Experience the beauty of the natural world on lakeside nature trails and woodland walks, explore four stunning gardens and enjoy delicious home cooked food in the café. For adventurous families head for indoor play in Hootz House and outdoor adventure at Wildrootz.
Explore and discover the amazing world of dinosaurs at the Dinosaur Adventure Park. Explore the Dinosaur Trail and Neanderthal Walk. Meet the animals in the Secret Animal Garden or jump aboard the deer safari. There is an enormous outdoor adventure play area along with 'Dinomite' indoor adventure play area.
Visit the Seals at Blakeney Point. Going out to visit the seals from either Blakeney or Morston is a trip not to be missed and one that is not just for the summer days… I have been out in January – one of the best times to go – because you get to see the seal pups! Head out of Morston with 'Temples' and be sure to mention to Jim that you are staying at Briningham.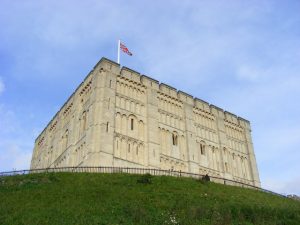 One of Norwich's most famous landmarks, Norwich Castle was built by the Normans as a Royal Palace 900 years ago. Explore the Castle's history as a palace and later as a prison, and enjoy the fabulous collections of art, archaeology and natural history as well as the Royal Norfolk Regimental Museum Collections.
Shopping… Market towns such as Aylsham, Fakenham and Reepham have traditional markets and mouth-watering Farmers Markets.  There is some fantastic boutique shopping and art collecting to be had in Holt and Burnham Market.  Norwich is less than an hour's drive from the coast and offers the usual high street stores, two shopping centres, all the wonderful independent shops, as well as an excellent market.
Leaflets & Locations
On arrival at our properties, you will find an abundance of leaflets to sift through and plenty of information in the folder. The list below gives you a few ideas to investigate before your arrival.
Alby Crafts
Amazona
Bewilderwood
Blakeney Point
Blickling Hall
Bure Valley Railway
Burnham Thorpe – birthplace of Nelson
Cromer Lifeboat and Museum
Cromer Museum
Doodle Pots, Holt
Felbrigg Hall
Glandford Shell Museum
Gressenhall Farm and Workhouse
Henry Ramsey Upcher Lifeboat
Holkham Beach
Holkham Hall
Holt Country Park
Houghton Hall
Norfolk Lavendar
Norfolk Nelson Museum
Norfolk Shire Horse Centre
Mannington Hall
Muckleburgh Collection
Pensthorpe Nature Reserve
Priory Maze and Gardens
Poppy Line, Sheringham
RAF Air Defence Museum
RNIL Henry Blogg Museum
Roarr! Dinosaur Themed Park
Sandringham House
Sculthorpe Moor Community Nature Reserve
Seals at Blakeney Point
Sheringham Museum
Sheringham Park
Splash Leisure Complex, Sheringham
Superbowl, Fakenham
The Thursford Collection
Time and Tide Museum
Wells Beach
Wells and Walsingham Railway